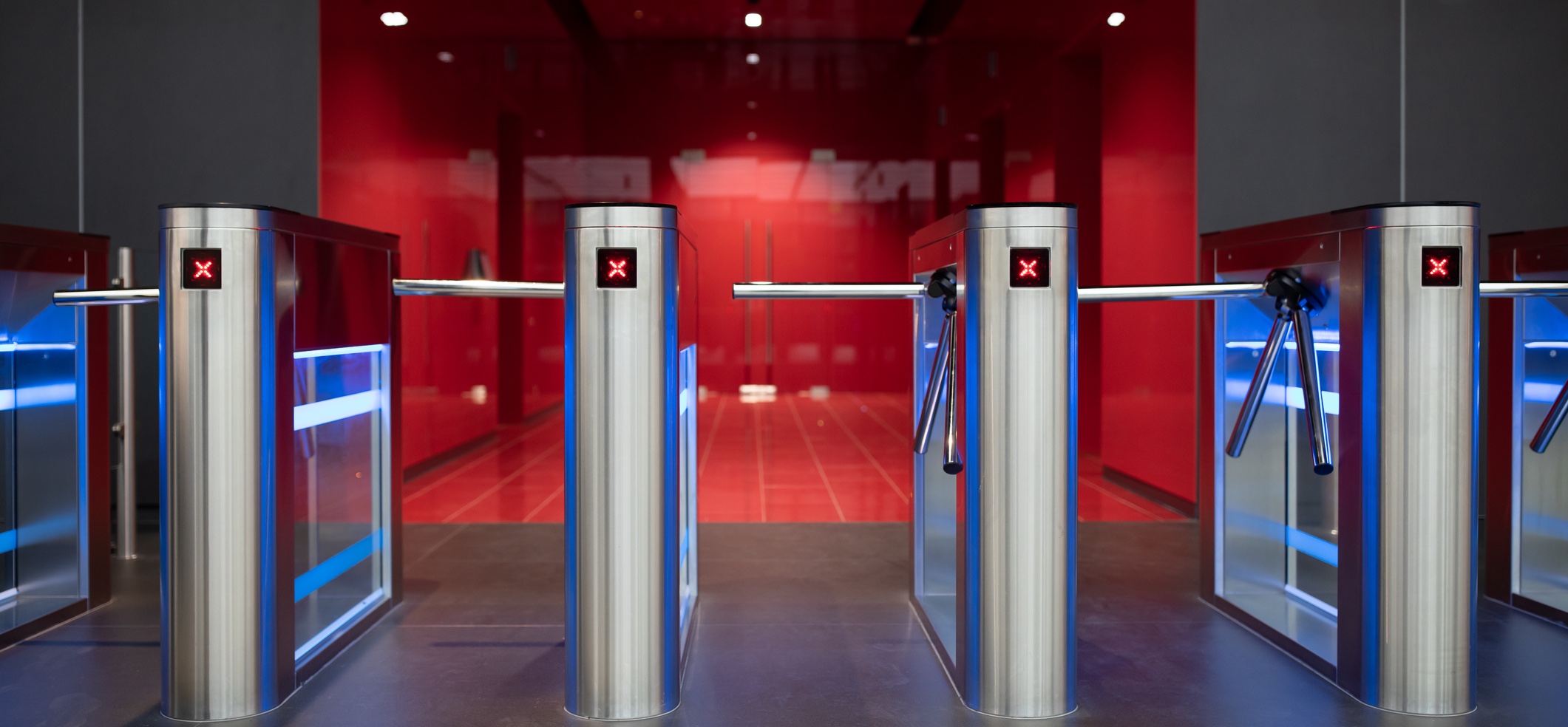 The old way of doing access control involved upfront purchases of servers and licenses required an IT expert to manage the solution specifically for your business and perform software upgrades as and when required. The limitations of such solutions ranged from the inconvenience of lost or misplaced keys (which could easily result in a serious security risk), having to be onsite to open or lock doors, the multiplication of keys as you expand to new locations and the lack of any useable data or efficiencies generated by such systems. You will be glad to know that the world has moved on and this article sets out why cloud-based access control is now the preferred solution.
What is access control? In its simplest form, access control is a way of limiting entry to specific locations. This can be in the form of a physical barrier into a building, a particular floor within a building, or a section of the floor or a specific room.
When I was at school, access through the front gate was controlled by a physical boom barrier operated manually by a security guard. At my first job, we had a receptionist stationed in front of the main entrance, deciding who was let in. We all use a lock and key to access our homes. One of the first "technology-enabled" access control systems I had installed in an office required each member of staff to have on them a key fob that had to be presented to a reader that would then unlock the door. The software for this system was installed on a desktop PC situated on the other side of the wall. Data for all access events were stored locally on this PC. Many a time we needed the original installer to come out (for a fee) when something had gone wrong and the system was not working as it should, to log in to that PC and "fix" something or perform some upgrade or "maintenance".
This latter system is a form widely known in commercial settings as a traditional physical access control solution, which works by assigning a credential (a card, fob, or biometric) to an individual, which then identifies that individual, and in turn, authorises them to enter a location if they have the correct permissions.
All of the above are forms of access control.
So what is meant by "cloud-based access control"? In this new world, software is hosted in the cloud (with infrastructure providers such as Amazon Web Services) which allows facility managers and administrators to control access to their facilities from anywhere and at any time. Data is also stored in the cloud, and therefore available at anytime, through any web browser and from any device. Access to the facility is still granted via a credential such as a card, fob, biometric or a mobile device).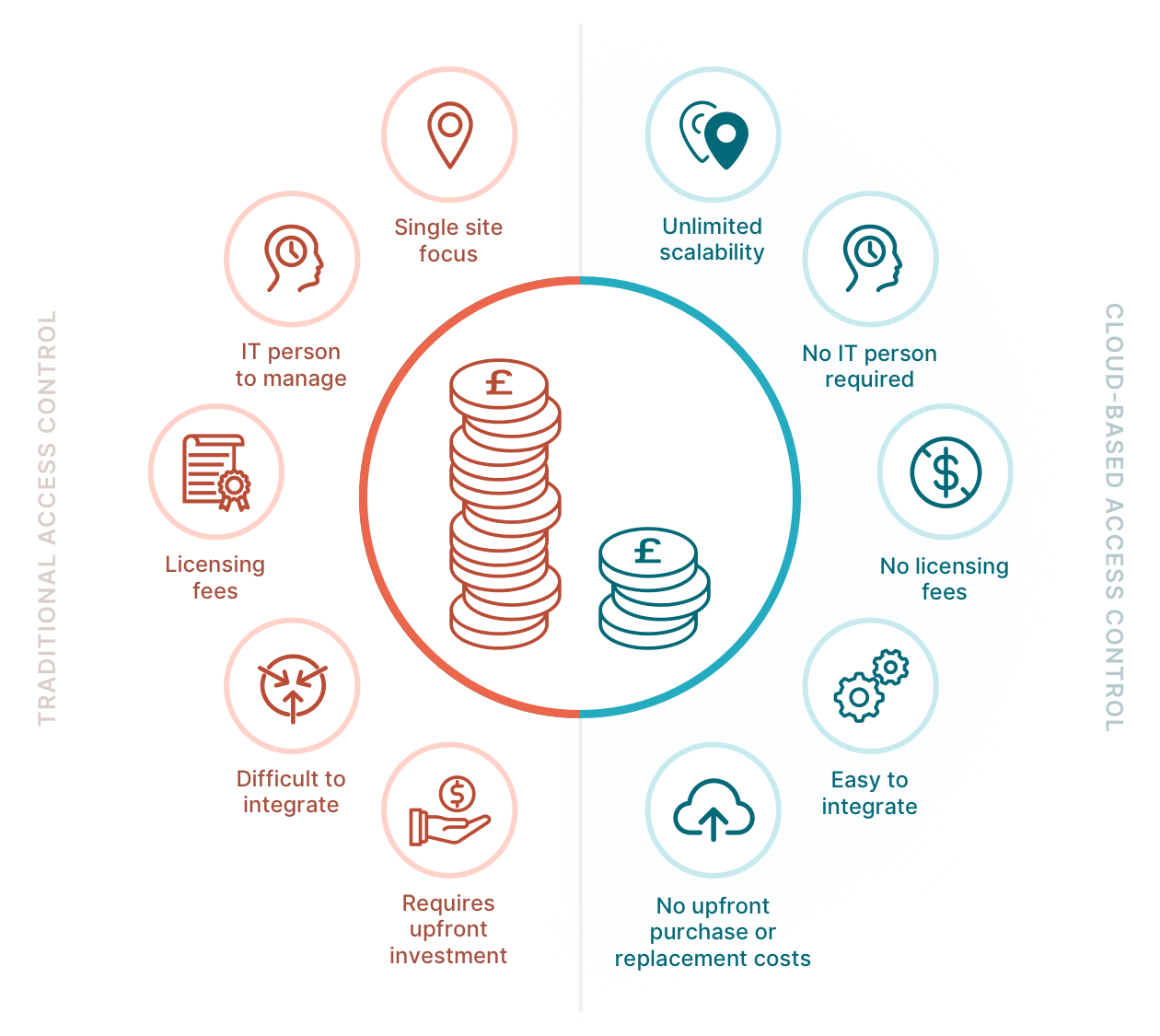 Access control can take up a lot of resources when handled in-house and usually requires a large, ongoing investment. Instead, cloud-based access control is offered on a subscription basis, where you pay a monthly fee for the services you use, thereby optimising costs and cash flow.
Cloud-based access control provides larger storage capacity while making information more accessible. In other words, the cloud lets you securely access information digitally, so you can use personal devices (smartphone, laptop, desktop, tablet, etc.) to manage your data from anywhere, and at any time.
This form of access control allows you to remotely manage building security and removes the need for onsite servers (or PCs). Information is stored and managed by a specialist third-party provider and you can save, download and access this data on demand.
Benefits of cloud-based access control
Allows for complete control from anywhere in the world.
Cloud-based access control allows for unlimited scalability. Facilities and users can be added at any time.
There are no servers to maintain and the software is updated automatically to protect against cyber threats.
Real-time data is collected about traffic in and out of the building. This data is then available for analysis and reporting.
When key cards are lost or stolen, cloud-based solutions make it possible to revoke access immediately. Also, employees can open doors with their mobile phone, eliminating the risk and cost of lost or stolen cards
The ability to open and secure doors remotely eliminates the need to hire additional on-site staff for gatekeeping
Video integration with cloud-based access control provides an additional layer of security and visibility into your facilities.
API integrations available for software applications, such as HR, visitor and membership systems provides greater flexibility and efficiency for your business.
Fortx is a cloud-based access control platform that provides the benefits set out above.